RockTape, Kinesiology Tape Chicago, IL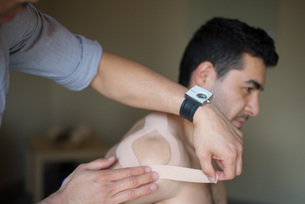 This introduces the concept of movement therapy and enhancement through functional taping methods. Kinesiology taping are purposed for rehabilitation, edema/swelling management, neuropathic pain, scar mobility and postural management. MSS therapists use this evidence-informed kinesiology taping to redefine your understanding of the effects of elastic therapeutic taping on pain mitigation, circulation and proprioception.
When applying functional taping methods your anatomy and physiology of myofascial slings are taken into consideration. Movement assessment to determine dysfunction in specific slings and how to apply tape in a manner that will improve movement and function.​
Functional kinesiology taping methods reduce or control pain, manage swelling or edema, increase joint range of motion, improve muscle function; and maintain a level of functionality and comfort.
---