| | |
| --- | --- |
| Health Running Benefits Chicago, IL | MSS RunningTreatment Therapies: |
Improve Health
Prevent Disease
Lose Weight
Boost Confidence
Relieve Stress
Eliminate Depression
Techniques to try: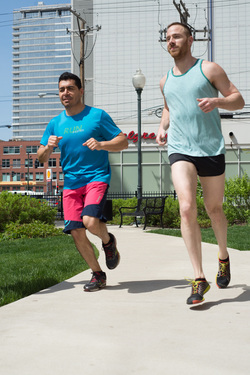 1.
Stick to the 10 percent rule.
Don't increase mileage by more than 10 percent each week. Upping those miles unexpectedly is a major reason overuse injuries occur!
2.
Warm up and cool down.
Remember to warm up and cool down to ease your body in and out of a workout. This will help keep injuries at bay.
3.
Fix your form.
Smooth and efficient is the key. Not only will poor form hinder performance, it could lead to unnecessary pain. Make sure to use correct running technique to prevent injuries, especially shin splints and back aches. Imbalances can also lead to problems down the road, and it never hurts to visit a skilled physical therapist who can help identify and address any biomechanical issues.
4.
Replace your sneakers.
Keep track of how many miles those shoes have logged, and replace them every 600 miles—if not sooner!
It's also worth swinging by a specialty running shoe store, where the staff can help you figure out which shoe is the perfect fit.
​
5.
Keep it even.
Avoid running on uneven surfaces that put unnecessary stress on ligaments. While off-roading is a fun change of pace, rough terrain may make it easier to twist an ankle—so be extra careful on the trails.
6.
Add in strength training
. Don't disregard those dumbbells, even if running is your main gig. Lifting can increase structural
fitness, which helps bones, ligaments, tendons, and muscles endure all that pounding. Pay special attention to strengthening hips, too, since weak hips are linked to higher rates of injury.
​
7.
Know your limits.
Shocker: Overtraining can cause overuse injuries. Make sure to take
at least
one day off per week, and mix up those fartleks and hill-repeats with some easier recovery runs. Don't forget to pencil in regular rest days, too. You (and your body) deserve it!
---
Don't forget to:
Stay happy
When you finish a run feeling happy and accomplished, you want to repeat it again and again. When you start out too hard (like I did the first time), you fuel feelings of defeat and failure. In order to become a master at any activity, you must be consistent, and that grows more readily from a sense of achievement rather than defeat.
Maintain motivation
Running happily and within your comfort zone creates a momentum that fuels motivation to continue to run consistently. You skip fewer workouts because you're enjoying them and seeing regular progress. You might be able to cover more distance or simply to walk less. These little high-five moments feed your motivation to keep moving forward.
​
Build confidence
As you build your running fitness and skill level, with every mile you gain a sense of confidence from the familiarity of the routine you've created. This doesn't happen overnight—confidence grows from the habit of running and from the many minutes you invest along the way. And with confidence you can begin to learn more skills, like how to
run faster
or improve your running form.
Keep it simple
Learning to run is like starting kindergarten. If you begin with the fundamentals, you'll set yourself up for years of success. It all begins with practicing patience, and progressing slowly and based on how your body feels.
---