Instrument Assisted Soft Tissue Mobilization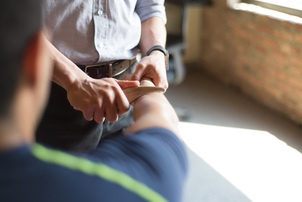 Instrument-Assisted Soft Tissue Mobilization (IASTM) enables clinicians to effectively address scar tissue, myofascial restrictions, and range of motion through comprehensive training, resulting in improved patient outcomes.
IASTM has assisted numerous athletes in their movement therapy and performance enhancement worldwide. The instruments may be hard-edged, soft-edged, and variety of shapes and sizes, but the techniques do not need to be aggressive to deliver superior patient outcomes.
​MSS therapists uses this technique to assist with solving dysfunctional movement patterns and utilizing soft tissue instruments to improve patient treatment.

​The anatomy, physiology and MOST IMPORTANTLY the neurology of myofascial soft tissue work is covered, along with supporting research. IASTM intervention strategies will also be combined with Kinesiology taping and corrective exercise techniques to deliver a comprehensive approach to patient care.